Spring 2018 Program Guide is Here!
Online Registration for members begins February 20th
February 9, 2018
---
This Spring, no matter how you like to move, we have registered programs to help you move with confidence, stay healthy and physically active regardless of age. Our quality programs and services offer something for all ages, interests, and fitness levels while focusing on physical literacy and Sport For Life principles.
Here are just some of the highlights from our programming team…
Recreation
Join the Pickleball craze with Pickleball 101! Learn the basics in a fun, inclusive environment
Have fun, learn new sports and build fundamental movement skills in our NEW Multi-Sport Program for ages 5-10
Don't forget! Para Multi-Sport runs through to June — registration is on-going
Fitness and Wellness
If you're looking to start training for a triathlon, increase your endurance and/or sharpen your swim strokes, then get ready with this trio: Introduction to Running, Go the Distance — Cycling, and Go the Distance — Swimming
New to kettlebells and TRX training? Learn how to do them both in Introduction to TRX & Kettlebell
Get fit fast in Iron Circuit — weight and conditioning interval training using a blend of TRX & kettlebell exercises
Register for one of your favourite Wellness Programs or try a new one — Tai Chi, Yoga, Pilates and more; there is something for all levels!
NEW — Youth Multi-Sport Conditioning for ages 13-17 who want to practice speed training, agility and reaction drills and strength
Aquatics
Lifesaving Society's Swim for Life Programs offer something for all ages – Parent & Tot, Preschool, School Aged Swimmer levels, Teen & Adult lessons
Aquatic leadership programs are a great next step after swimming lessons as they offer first aid and lifesaving training, and can be a great path for youth employment
The CGC Swim Academy continues to have a successful Winter season! All of our aquatic sport teams under one umbrella, and with lots of opportunity to try them all. Space is available for registration in the Lifesaving Sport Team and Masters Swim Team programs. If you have any questions, please reach out to Scott at swimacademy@canadagamescentre.ca.
We're proud to be leaders in Atlantic Canada when it comes to Physical Literacy and Sport for Life (S4L) programming. We love being able to offer our community a variety of programs, sports and activities that help develop the skills and confidence to enjoy it all.
Click to view the SPRING 2018 Program Guide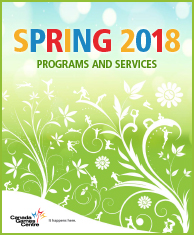 SPRING REGISTRATION DATES

MEMBERS
Online | February 20th, beginning at 8:00am
In-person | February 22nd, beginning at 8:00am
NON-MEMBERS
Online | February 27th, beginning at 8:00am
In-person | March 6th, beginning at 8:00am
*SAVE THE DATE | 3 ON 3 Basketball Tournament on Sunday, May 6th
Calling all U14 basketball players! Recruit your team to play in our 3 ON 3 Basketball Tournament returns to the courts on Sunday, May 6th. All players receive a reversible shirt and play a minimum of three games, with a free throw contest during the tournament.
It happens here!