Public Health Restrictions Lifting March 21st, 2022
March 15, 2022
---
Nova Scotia is set to move into the final phase of its reopening plan on Monday, March 21st, 2022. In this phase, Public Health is lifting provincewide gathering limits, social distancing and mask restrictions. This is great news to allow for more physical activity at the CGC! Here is a summary of what to expect as of March 21st:
Staying Healthy
Masks are no longer required within the facility, but fully welcome.
Please continue to practice good hygiene, like wiping down your equipment, washing your hands frequently, and staying home when feeling sick.
Hand sanitizer stations will continue to be provided throughout the facility for use prior to entering activity spaces and change rooms/washrooms and located near high-touch surfaces like stair railings.
Cleaning routines throughout the day will adapt to changes in activity/amenity availability and usage to ensure proper disinfecting and sanitation. When the building is closed overnight, all areas will continue to be disinfected using sprayers to allow for longer dwell time including equipment, floors, walls, and change rooms/washrooms.
Last but not least, please be kind and patient with everyone.
Booking No Longer Required
Public Health capacity restrictions are removed, and booking is no longer required, except for the following classes/activities: Spin, Yoga, Tai Chi, and Pickleball/Badminton.

CGC Members can book Spin, Yoga, and Tai Chi classes and Pickleball/Badminton courts up to 3 days in advance (online through MyRec or in-person at the Customer Service Desk). Non-members and 10 Punch Pass holders can book day-of at the Customer Service Desk if space allows. *Please note a software transition period will be needed to move to 3 days advanced booking.
Services & Amenities
Most activities on hold during capacity restrictions will return beginning the week of March 21st (Parent & Tot Swim, Member Only Swim, $4 Swim, $4 Track, Birthday Parties), while other services will be gradually reintroduced as we move activity spaces around and rehire the staff required (i.e. Child Minding).
Change rooms return to full capacity and locker use.
Aquatics, Field House and Fitness schedules beginning March 21st, 2022 have been updated to help us transition out of booking. Any Fitness class and equipment relocations will also be noted.
Facility Access
Facility entrance doors return to two-way traffic (entry & exit through either set of doors).
The gates will be active, and access will require a membership/access card or the purchase of a Day Pass at the Customer Service Desk.
10 Punch Passes will be reactivated and available for purchase again at the Customer Service Desk.
No change in facility hours at this time.
Access Cards
If you are currently a CGC Member and do not have a new access card (see image below), please stop by the Customer Service Desk at your earliest convenience to get your new card.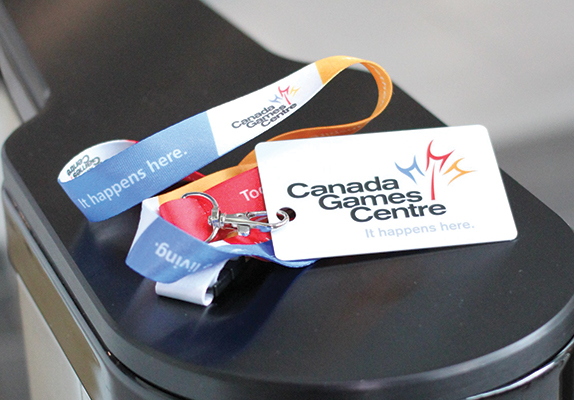 THANK YOU!
Thank you for doing your part to help reduce the spread of COVID-19. Please continue to follow the advice of the Public Health and stay up-to-date through the Province's website: https://novascotia.ca/coronavirus/.