Pickleball Champions
2015 Nova Scotia 55+ Games
October 29, 2015
---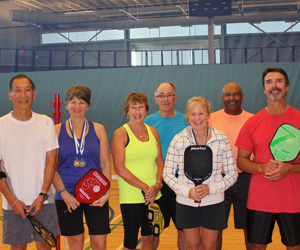 You're either familiar with the sport of Pickleball or having just heard the term you are envisioning a game played with an actual pickle. Though it has nothing to do with those vinegary vegetables, Pickleball is equally as entertaining, great for all ages, and is currently the fastest growing sport in North America according to Pickleball Canada.
For those unfamiliar with the sport, Pickleball can be best described as a combination of tennis, badminton, and ping-pong. It is played on a badminton court with the net lowered, while participants using a paddle slightly bigger than a ping pong paddle try to volley the ball over the net in an effort to gain points on their opponents.
Since its introduction to the Canada Games Centre in 2012, the game has developed quite a following among CGC members, including Jack Yee, Karen MacDonald, Dave Reynolds, Margie MacInnis, Irvin Lucas, Bob Blondell and Jackie Heathcote. This small group of loyal players can be found practicing in the Field House every Monday, Wednesday, and Friday morning. They share a love of the game, a keen interest in honing their skills, and the desire to remain active. Their practices are filled with a youthful energy and humour, where the most common joke shared is about spending time in "the kitchen", an area of the court that players are not to visit unless the ball is there. It's all fun and games with this crew, but more recently it's been medals too.
On September 16th-19th, the team traveled to New Glasgow and took part in the Nova Scotia 55+ Games. Competing in Men's Doubles, Women's Doubles and Mixed Doubles; Jack, Dave, Karen and Margie came home with two gold medals and one silver medal.
In addition to Pickleball, these Games which are designed for Nova Scotian residents over the age of 55 include other sports such as golf, badminton, darts, washer toss, and many more. By promoting "Fun, Fitness, and Friendship" through sport and recreation, the 55+ Games focus on participation not competition.
All the same, CGC would like to congratulate our Pickleballers on their excellent showing at the Games.