Getting to know CSCA athlete Casey Perrin
December 22, 2016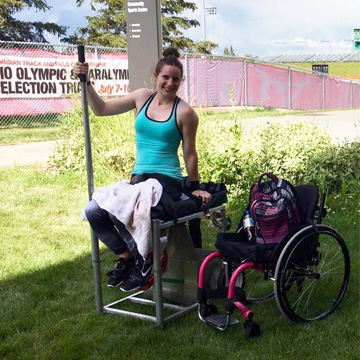 ---
From the small town of Oxford Nova Scotia, 22 year old Casey Perrin has worked hard to make her way as a global wheelchair athlete and completed her very first international competition in Dubai this year.
Casey was always athletic in high school, leading her basketball team into the championships and playing on the softball team. After her ATV accident in 2011, resulting in paraplegia and traumatic brain injury, Casey was determined to continue to living an active lifestyle.
"In 2013 I met Pamela Lejean, another CSCA Athlete, who said to me "come throw with me, I need a chick to throw with," so I tried it. I was not very good at it, but it was fun and it was something to work towards – to be as good as Pam. With a good coach, a good team, and excellent opportunities, it seemed to be a good fit for me."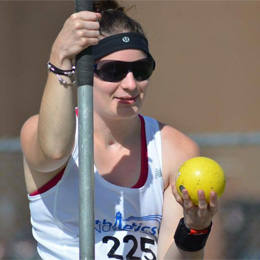 Casey is now training for the 2017 Canada Summer Games in Winnipeg. Her workout goals are to keep increasing her weight and strength to improve her throwing distance for the Games. She loves to listen to music as she's working out, doing many landmines, bench presses, kettlebell holds and chin ups. At the CGC, you can always find her in the CSCA training area. Her favorite things about the facility are the friendly people, the cleanliness and the overall atmosphere.
When Casey is not at the Centre, she's at Mount Saint Vincent University completing her Bachelor of Arts degree. Casey has also recently became an Ambassador or the Rick Hansen Foundation. This Foundation develops programs and initiatives that raise awareness, change attitudes and removes barriers for people with disabilities in the built environment.
Congratulations Casey on your many accomplishments to date, and we wish you the best of luck in your training!