Fitness Centre Equipment Installation | July 15, 2016
July 15th Closure from 5:30am-10pm
July 4, 2016
---
The Fitness Centre is getting two new machines this summer! These new pieces of equipment were the most requested by you, our members and guests.
Hoist Cable Machine
There are 9 stations included with this new machine – 2 Triceps Extensions, 2 Hi-Lo Pulleys, 2 Lat Pulldowns, 2 Seated Low Rows, and 1 Cross Over/Pull Up Station. This means we are increasing our cable machines from the current 5 stations up to a total of 14 stations. The Lat Pulldowns are often in demand and adding 2 extra ones make it a welcome addition to the Fitness Centre.
Hammer Strength Incline Chest Press
This piece of equipment is a plate-loaded compound exercise station that offers balance to our other three Hammer Strength Row machines, operating as a push machine while the others are pull operated.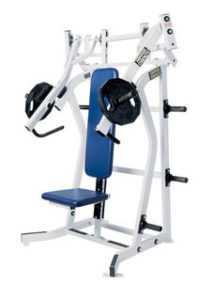 In order to install these sizable machines, the Fitness Centre will be closed for the entire day on Friday, July 15th from 5:30am to 10pm.
Why the whole day shutdown? In addition to assembling the new machines, we will be moving and shifting other equipment to make room for them, and your safety is important during this process.
We're also adding to our small core equipment, so you'll see Ab Rollers in the Fitness Centre after July 15th.
Our Fitness team is looking forward to helping you with the new machines and getting you orientated to the new layout when they open at 7am on July 16th.