Fall 2019 Program Guide is Here!
Online Registration for members begins August 6th
July 13, 2019
---
Fall back to your fitness routine with your favorite registered programs or change it up with one of our exciting new ones! With a continued focus on physical literacy and a variety of recreation, fitness and wellness, and aquatics activities, there is something for all ages and fitness levels to enjoy.
1-Day Workshops
These workshops are a great opportunity to step out of your comfort zone, meet other members with similar interests, or maybe even discover a hidden talent or passion new to you! They also give you the chance to try an activity before signing up for the full program. Workshops are free for annual members and $8 (plus tax) for non-members. Spaces are limited so be sure to register early if something catches your eye.
Recreation
Active Play School programs for children ages 3+ years can choose from Primary Prep, Play School Swim Lessons or Tiny Tumblers.
Learn the Fundamentals of basketball — for youth ages 5-8 and 9-12.
Master chess tactics and strategies from local experts in our Chess programs available for kids, youth, adults and seniors.
Develop rhythm, motor skills, and creativity through singing and simple dance steps in our fun Dance program.
…And so much more, including Multi-Sport, Pickleball, Karate, Wrestling and Badminton.
Fitness and Wellness
Take your training to the next level with Iron Circuit — a strength and conditioning interval program that's sure to get your heart racing!
Jam to the beat of the music with Drum-Fit, that transforms drumming into an effective full-body workout.
Ladies, challenge your muscles and build your strength with Ladies Only Introduction to Lifting 101 and Lifting 201 — now 6 weeks!
Relieve stress, lower blood pressure and enjoy a tranquil energy with Ron Salah in Traditional Yang Style Tai Chi — open to all levels.
Wind down and take time for yourself in one of our Yoga or Mindfulness and Meditation programs.
New this Fall:

Stroller Circuit has evolved into something even better and is now part of Stroller Plus — a program designed with the flexibility to choose which days you work out with your little one.
Beginner Barre Pilates Fusion combines Barre and Pilates to give beginners a total body toning and lengthening workout.
Start your day by challenging yourself with a variety of Pilates drills and poses in Functional Pilates Level 2+.
Aquatics
Learn basic aquatic survival skills and swimming techniques while having fun in Lifesaving Society's Swim for Life Programs — Parent & Tot, Preschool, School-Aged Swimmers, and Teen & Adult lessons.
We are excited to offer an increased level of inclusion programming with our Group Inclusion Swim Lessons.
Aquatics Leadership Programs are a great next step after swimming lessons, offer first aid and lifesaving training, and can be a great path for youth employment.
The CGC Swim Academy includes all our youth aquatic sport teams under one umbrella, and with lots of opportunity to try them all. CGCSA Member Renewal Night takes place August 7th. Registration for new or non-members will be on August 14th. If you have any questions, please reach out to Lauren at swimacademy@canadagamescentre.ca.
First Aid Training
We are proud to offer First Aid and CPR courses to meet industry, business, and government requirements, including Emergency and Standard First Aid (CPR-C) & AED Responder. The option to book your own training times at CGC or off-site at your location is available.
Click to view the Fall 2019 Program Guide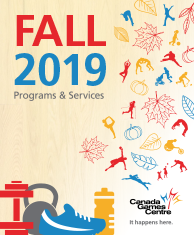 Fall Registration Dates
MEMBERS:
Online: August 6th, beginning at 8:00am
In-person: August 8th, beginning at 8:00am
NON-MEMBERS:
Online: August 13th, beginning at 8:00am
In-person: August 20th, beginning at 8:00am
It happens here this fall!