Fall 2017 Program Guide Now Online
Online Registration for members begins Aug. 8th
July 17, 2017
---
Our Fall 2017 Program Guide is ready for you.
We have a lot in store for the fall, including an exciting line-up of registered programs for all ages and fitness levels, as well as the official launch of the Canada Games Centre Swim Academy! While you're soaking up the summer weather, take a minute and see what's heading your way in September:
Recreation
Our Recreation programs offer something for everyone – from kids to big kids at a heart.

Play School, Fundament Movement Skills, Tiny Tumblers, Run Jump Throw, Badminton, Tennis, Rhythmic Gymnastics, Wrestling, Karate, Dance, Golf, and Watercolours
Fitness and Wellness
Work on the basics in our NEW Intro to Free Weights program
Ladies, do you want to learn how to squat, bench press, deadlift, overhead press, and row correctly? Our NEW Intro to Barbell Training – Ladies Only will cover that!
Learn defensive techniques and how to use the strength of your own body and mind in the NEW Women's Self Defense program.
Time to limber up with our NEW Let's get Limber: Joint Mobility & Stability program. Join our Exercise Specialists on a guided journey that will focus on the mobility and stability of the major joints of your body.
Aquatics
There's something for everyone in Lifesaving Society's Swim for Life Programs – Parent & Tot, Preschool, School Aged Swimmer levels, Teen & Adult lessons & inclusion days.
Aquatic leadership programs are a great next step after swimming lessons, offer first aid and lifesaving training, and can be a great path for youth employment.
And last but not least, we're very excited to introduce you to the Canada Games Centre Swim Academy! All of our aquatic sport teams under one umbrella, with lots of opportunity to try them all. This new approach to aquatic sport is designed to support Sport For Life's Long-Term Athlete Development principles, including lifelong enjoyment of physical activity for every Canadian.
We're proud to be leaders in Atlantic Canada when it comes to Physical Literacy and Sport for Life (S4L) programming. We love being able to offer our community a variety of programs and sports activities that can help develop the skills and confidence to enjoy it all.
Click to view the FALL 2017 Program Guide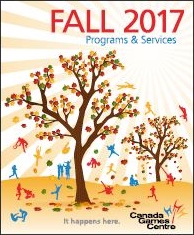 Fall Registration Dates
MEMBERS:
Online: August 8th, beginning at 8:00am
In-person: August 10th, beginning at 8:00am
NON-MEMBERS:
Online: August 15th, beginning at 8:00am
In-person: August 22nd, beginning at 8:00am
*Please note all CGC Swim Academy registrations are in-person only. Questions about the Academy? Come to one of our CGCSA Information Nights: Thursday, Aug. 10th or Tuesday, Aug. 15th at 6pm-8pm.
*Save the Date | 2017 FOOD RUN*
Join us again this year on Sunday, October 15th for the 5th Annual Food Run as we support FEED NOVA SCOTIA and celebrate community, healthy living and physical literacy. Registration is FREE.
It happens here this fall!