Congratulations Amanda
Winner of Progress Women of Excellence Award
September 23, 2014
---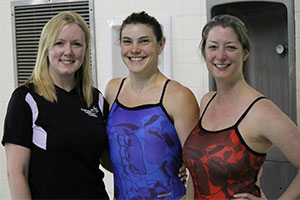 We are very proud to announce that our very own Amanda Layton-Malone, CGC Diving Club Head Coach, has won the Progress Women of Excellence Award for Health Sports and Wellness. Amanda was nominated and succeeded in winning this award because she exemplifies excellence in the health profession, and has made significant contributions to improving our community in so many various ways related to health and wellness.
For those of you who haven't had the pleasure of meeting her yet, Amanda is our Diving and Water Polo Coach. She is a very dynamic coach and leader who works tirelessly to create a diverse and exceptional program for all participants.  It's never just about the sport for Amanda as she focuses on the overall well-being of all of her athletes. "She is just fantastic." Says Janet Annion, our Aquatic Program Coordinator, "she is so passionate and that makes the kids passionate as well." Amanda ensures that every child receives individual support to conquer their fears and fosters self-confidence. This personal touch truly makes a difference.
Throughout Amanda's time with us she has established a complete Diving program sprouting from Learn to Dive, to the Competitive Diving level. This would not have been possible without her dedication, support for all of our aquatics programs and willingness to volunteer whenever possible. This makes her a unique asset to our team and she is truly revolutionizing the sport of diving in our community.
Amanda is one of the 19 inspirational award recipients who will be honoured during the Progress Women of Excellence Awards fundraiser on November 19th at the World Trade and Convention Centre. This annual fundraiser, hosted in support of Phoenix Youth, is the only one of its kind in the Province and celebrates women who are at the pinnacle of their professions and play an important role in our community. For more details or to purchase tickets to this event, visit the Canadian Progress Club website http://www.cpchalifaxcornwallis.ca/