Coach of the Year
CGC Dive Club Head Coach Takes Home RICOH Sports Award
June 22, 2016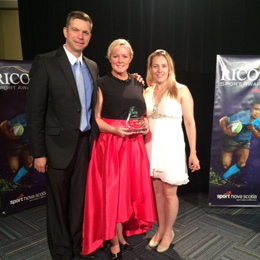 ---
Sport Nova Scotia's 2016 RICOH Sports Awards celebrated and honoured the outstanding accomplishments of more than 180 athletes, coaches, officials, sponsors and volunteers from across the province. Over 500 members from the Nova Scotia sporting community attended the awards at the World Trade & Convention Centre on May 28th, including Amanda Layton-Malone, CGC Diving Club Head Coach. The nominees and winners are dedicated and have all contributed to sport in Nova Scotia.
We're pleased to announce Amanda won the Coach of the Year Award through the Nova Scotia Amateur Diving Association. Her talent, drive and passion for diving make her an exceptional coach, as well as her ability to focus on the individual divers as much as the sport itself. This is an extraordinary achievement and we feel honored to have her as part of our team.
Congratulations Amanda on your well-deserved recognition and the dive team accomplishments this season!
We would also like to congratulate these athletes who train at the CGC:
Ellie Black | RICOH Female Individual Athlete of the Year (Gymnastics)
Mark de Jonge | RICOH Male Individual Athlete of the Year (CanoeKayak)
Read here for more details, list of winners and photos from the annual RICOH Sports Awards.