2021 Summer Camps & Programs Guide Now Online
Updated June 14th, 2021
April 16, 2021
---
Summer Camps & Programs Update (June 14th, 2021)
Online Registration for Summer Camps began on May 4th and summer camp spaces are limited. Registration for summer Recreation & Fitness programs, including swim lessons, will resume as follows:
Member Online & In-person | June 22nd beginning at 8am in MyRec
Non-member Online & In-person | June 24th beginning at 8am in MyRec
Thank you for your patience and understanding. We're still very much looking forward to a safe, fun and active summer!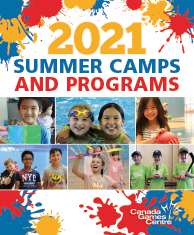 Click to view the updated 2021 Summer Camps and Programs Guide
---
Summer is just around the corner and we're excited to launch our 2021 Summer Camps & Programs Guide! With a continued focus on Physical Literacy and Sport for Life (S4L) principles, the Guide is filled with a variety of summer aquatics and fitness programs, as well as awesome themed camps to keep kids active for a week, a month, or all summer long.
Here's a preview of the programs happening at the CGC this summer:
Summer Camps – Ages 5 1/2-12 years old*
Summer Camp Fun runs July 5th to August 27th
Outdoor Explorers Camp | Like to be outdoors and have a passion for the environment? This camp is for kids who love nature
Swim Lesson Camp | This 2-week camp is a great way to improve swimming skills
Spectacular Science Camp | Have fun with science with hands-on activities such as slime making and more!
Olympic Camp | Jump your highest, run your hardest and be your best while participating in a variety of Olympic themed sports and activities
Aspiring Artists Camp | Dream of being an artist? Create a Picasso-worthy art pieces using various colours, materials, tools and styles
Sport Conditioning Camp | Spend the day working on movement, speed training, agility and strength with a Strength and Conditioning Specialist
Youth Leadership Camp | Play ice-breaker games and learn valuable skills in leading children and helping out in your community
And so many other camps to choose from, including Basketball, Chess, Crafty Kids, Soccer, Superhero, and more!
*5 year olds must have turned 5 by December 31st, 2020
Adult Fitness and Wellness
Cardio Kettlebell is an all-levels program with aerobic exercises to improve cardiovascular fitness, strength and stamina
Have fun with heart pumping music and get a full-body workout in Drum-Fit
A CGC Exercise Specialist will keep you on track and challenge you with a variety of workouts on Tuesdays & Thursdays in Toughen Up
Weight Lifting for Women, led by a female CGC Exercise Specialist, will help women feel confident while learning basic and intermediate lifting techniques
Tai Chi is open to all levels and will improve core strength while relieving stress
Fitness Services are available and include Personal Training (One-on-One, Semi-Private and Small Group) and Dryland Team Training
Aquatics
Dive into summer with swim lessons, starting at the Parent & Tot level through Swimmer 9
Aquatics Leadership Programs are a great next step after swimming lessons. They offer first aid and lifesaving training, and can be a great path for youth employment.
The CGC Swim Academy Summer Swim Team focuses on technique, sportsmanship, and of course, fun!