phys·i·cal lit·er·a·cy noun : Physical literacy is the motivation, confidence, physical competence, knowledge and understanding to value and take responsibility for engagement in physical activities for life.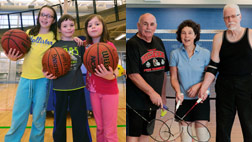 At the Canada Games Centre, we strive to provide the best programs and services possible to improve physical literacy for all – from the very young to the young at heart.
Following the Sport for Life (S4L)'s guidelines for physical literacy, we continue to add and improve programming every season.
---
Drum it out in POUND® – July Program
6 weeks | July 12th-August 16th
Thursdays, 6pm-7pm
Members $48, Non-Members $60 (plus tax)
Online registration code 230523
Location: Dance Studio
Become the music in this exhilarating full-body workout that combines CARDIO, CONDITIONING, STRENGTH TRAINING YOGA AND PILATES INSPIRED MOVEMENTS. POUND® provides the perfect atmosphere for letting loose, getting energized, toning up and rockin' out!
---
Fall 2018 Program Guide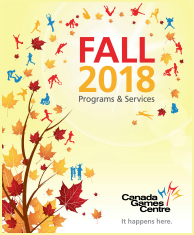 Fall Registration Dates
MEMBERS:
Online: August 7th, beginning at 8:00am
In-person: August 9th, beginning at 8:00am
NON-MEMBERS:
Online: August 14th, beginning at 8:00am
In-person: August 21st, beginning at 8:00am
Click to view the FALL 2018 Program Guide
---
2018 Summer Camps & Programs Guide
Summer Registration Dates
MEMBERS
Online | March 27th, beginning at 8:00am
In-person | March 29th, beginning at 8:00am
NON-MEMBERS
Online | April 3rd, beginning at 8:00am
In-person | April 10th, beginning at 8:00am