phys·i·cal lit·er·a·cy noun : Physical literacy is the motivation, confidence, physical competence, knowledge and understanding to value and take responsibility for engagement in physical activities for life.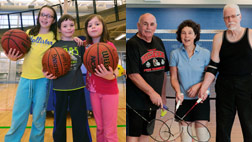 At the Canada Games Centre, we strive to provide the best programs and services possible to improve physical literacy for all – from the very young to the young at heart.
Following the Sport for Life (S4L)'s guidelines for physical literacy, we continue to add and improve programming every season.
---
SwingFit Workshop – NEW
Sunday, April 29th | 1pm-4pm
Singles $40 | Couples $60
Online registration code 130200
Location: Dance Studio
CGC presents a SwingFit Workshop! Join Priyanka and Logan as they introduce the energetic sounds and moves of the Swing era. Appreciate the history and sound of this original 1920s Jazz music. Find your dancing pulse, learn to rock the rock step, and show off with some smooth moves all in this afternoon workshop. No experience necessary! Priyanka and Logan will help you hear the music and find your rhythm.
Sign up with a partner or save when you sign up as a pair. Prefer to solo dance? It's OK! Come learn some solo jazz moves and our Charleston Cardio! This swing inspired aerobics class is sure to bring the sweat. This is all included in the workshop.
For more information, contact Logan at harrisl@canadagamescentre.ca.
---
Self-Care & Recovery – NEW DAY & TIME ADDED
6 weeks | April 20th-May 25th
Fridays, 12:00pm-1:00pm
Members $48, Non-Members $60 (plus tax)
Online registration code 130531
Location: 2nd Floor Fitness Studio
This program is about taking time for yourself! Candice, a certified Yoga Tune Up Instructor, has developed a curriculum that follows the basics of self-massage, adding deep PNF
stretches, and muscle activation. This sequence of activities is used to reduce muscle tension and improve mobility, range of motion, power and strength. It's a great stress reliever too!
This program addresses plantar fasciitis, shin splints, back pain, sciatica, digestion issues, frozen shoulder and impingement, tension headaches, and just general wear and tear.
---
2018 Summer Camps & Programs Guide
Summer Registration Dates
MEMBERS
Online | March 27th, beginning at 8:00am
In-person | March 29th, beginning at 8:00am
NON-MEMBERS
Online | April 3rd, beginning at 8:00am
In-person | April 10th, beginning at 8:00am
Click to view the 2018 Summer Camps & Programs Guide
---
Spring 2018 Programs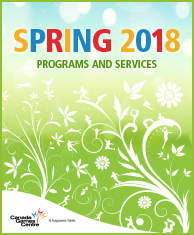 Spring 2018 Registration remains open until the second session of programs.
---
SIMPLY FIT
Who? All Members of the Canada Games Centre (excluding Day Passes)
What? Free 45-minute session in the Fitness Centre designed to give you strategies and techniques to help you reach your healthy lifestyle goals*
Cardio/Hoist Circuit – Target heart rate, key abdominal exercises for a strong core and flexibility are discussed. You'll also learn the ideal number of repetitions and sets as well as the proper settings on the HOIST Roc it Circuit system to meet your goals.
Where? CGC Fitness Centre
When? Sessions running Tuesdays 2pm, Wednesdays 6:30pm & Saturdays 9am
To sign up for a Simply Fit session, call us at 902.490.2580 or stop by the Fitness Centre Desk.
*Attend a Simply Fit session and your name will be entered into a draw for a free 30-minute personal training session. A draw will be made each month!