phys·i·cal lit·er·a·cy noun : Physical literacy is the motivation, confidence, physical competence, knowledge and understanding to value and take responsibility for engagement in physical activities for life.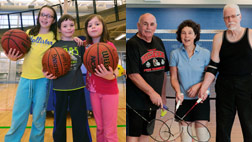 At the Canada Games Centre, we strive to provide the best programs and services possible to improve physical literacy for all – from the very young to the young at heart.
Following the Sport for Life (S4L)'s guidelines for physical literacy, we continue to add and improve programming every season.
---
Traditional Yang Style Tai Chi – 2 Winter Sessions Added!
4 weeks | March 6th-27th
Tuesdays, 6pm-7pm OR Tuesdays, 7pm-8pm
Members $32, Non-Members $40 (plus tax)
Online registration code 430309
Location: Classroom
Yang's T'ai Chi Chuan, taught by Ron Salah, is a soft, internal art for health, exercise and self-defense. It is a moving mediation that improves and builds strength, especially in the core, can relieve stress and helps to lower blood pressure. The graceful Yang form has a quiet, tranquil energy designed to benefit everyone regardless of age and/or physical condition.
---
POUND® – Second Session Added!
6 weeks | February 23rd-March 30th
Fridays, 6pm-7pm
Members $48, Non-Members $60+HST
Location: Dance Studio
Online registration code 430523
Using Ripstix®, lightly weighed drumsticks engineered specifically For exercising, POUND® transforms drumming into and incredibly effective way of working out. Instead of listening to music, you become The music in this exhilarating full-body workout that combines cardio, conditioning, and strength training with yoga and Pilates inspired movements.
---
Lifting 201 – Ladies Only
Running for 2 weeks on February 11th & 18th
Sundays, 7pm-8pm
Members $16, Non-members $20 +HST
Online registration code 430514
Have you been doing the same exercises for a while and not sure how to progress your routine? Do you know the basics, but are looking for a new challenge? Then Lifting 201- Ladies Only is right for you. This program, led by a female Exercise Specialist, takes the basic strength training exercises and add some complexity. It will help you challenge yourself and add variety to your workout. Program is limited to 8 participants to ensure you receive the attention you need.
---
Spring 2018 Programs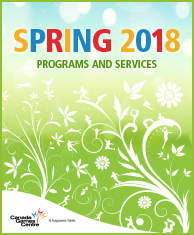 Spring Registration Dates
MEMBERS
Online | February 20th, beginning at 8:00am
In-person | February 22nd, beginning at 8:00am
NON-MEMBERS
Online | February 27th, beginning at 8:00am
In-person | March 6th, beginning at 8:00am
---
Winter 2018 Registration remains open until the second session of programs.
Click to view the Winter 2018 Program Guide
---
SIMPLY FIT
Who? All Members of the Canada Games Centre (excluding Day Passes)
What? Free 45-minute session in the Fitness Centre designed to give you strategies and techniques to help you reach your healthy lifestyle goals*
Cardio/Hoist Circuit – Target heart rate, key abdominal exercises for a strong core and flexibility are discussed. You'll also learn the ideal number of repetitions and sets as well as the proper settings on the HOIST Roc it Circuit system to meet your goals.
Where? CGC Fitness Centre
When? Sessions running Tuesdays 2pm, Wednesdays 6:30pm & Saturdays 9am
To sign up for a Simply Fit session, call us at 902.490.2580 or stop by the Fitness Centre Desk.
*Attend a Simply Fit session and your name will be entered into a draw for a free fitness/wellness workshop. A draw will be made each month!