Physical Literacy – It Happens Here.
phys·i·cal lit·er·a·cy noun : We are physically literate when we have acquired the fundamental movement skills and confidence to enjoy a variety of sports and physical activities.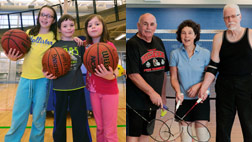 At the Canada Games Centre, we strive to provide the best programs and services possible to improve physical literacy for all – from the very young to the young at heart.
Following the Canadian Sport for Life (CS4L)'s guidelines for physical literacy, we continue to add and improve programming every season.