Physical Literacy – It Happens Here.
phys·i·cal lit·er·a·cy noun : We are physically literate when we have acquired the fundamental movement skills and confidence to enjoy a variety of sports and physical activities.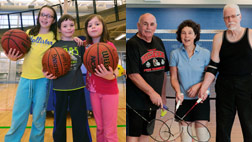 At the Canada Games Centre, we strive to provide the best programs and services possible to improve physical literacy for all – from the very young to the young at heart.
Following the Canadian Sport for Life (CS4L)'s guidelines for physical literacy, we continue to add and improve programming every season. This summer we're excited to announce that all of our Summer Camps, though each uniquely themed, have been designed to deliver the CS4L Physical Literacy ABC's. Learn more »