Mo-Volley Charity Volleyball Tournament-Halifax Sport & Social Club
November 12, 2017 | 12:00 pm – 5:30 pm
---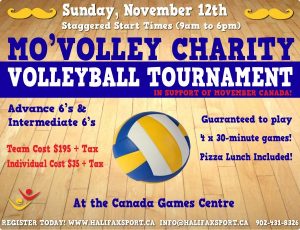 On Sunday, November 12th, come cheer on the Halifax Sport & Social Club as teams compete in support of Movember Canada at the Mo'Volley Charity Volleyball Tournament. The tournament will be from 12pm-5:30pm on 1 court in the Field House.
Halifax Sport & Social Club creates a better community for adults to live, play, work, and connect.  We provide the largest, most organized and FUN outlet of co-ed sport leagues, tournaments, social events and classes.  We connect people of all ability levels to play actively together while providing them with superior customer service through our full time staff.
For more information, click here.