Fast & Female Champ Chat 2017
September 17, 2017 | 9:00 am – 12:30 pm
Canada Games Centre
26 Thomas Raddall Drive
---

Fast and Female Champ Chat
Presented by the Canada Games Centre in partnership with Fuelling Women Champions in Halifax.
Register now for an exclusive day of empowerment through sports! Scheduled for Sunday, September 17th from 9am to 12:30pm at the Canada Games Centre, the Champ Chat includes a physical activity circuit, yoga, autographs, and an inspirational chat with our Fast and Female Ambassadors. The Canada Games Centre is offering an exclusive opportunity through the sponsorship of 100 spots.
Advanced registration for female CGC members ages 8-18 years old is now open through to Monday, September 4th* (via the registration link emailed to members). If you did not receive the email, please contact our Customer Service team for more details and for the registration link.
*The first 50 CGC members to sign up will be entered into a draw for the chance to win 2 Ivivva yoga mats.
Complimentary registration is now SOLD OUT! Registration is available for 10 more spots @ $30 each. Register today!
CHAMP CHAT SCHEDULE
8:30am – Check-in / Registration (30 minutes prior to event) 
9:00am – Welcome to Fast and Female
9:30am – Physical Activity Circuit with Fast and Female Ambassadors
10:30am – Milk Break presented by Canada's Dairy Farmers / Fuelling Women Champions
10:40am – Inspirational Chat plus Q&A with Fast and Female Ambassadors
11:30am – Yoga
12:00pm – Autographs & Photos
12:30pm – Event Conclusion
FAST AND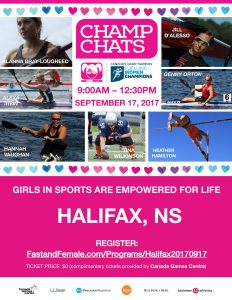 FEMALE AMBASSADORS
Alanna Bray Lougheed – Sprint Kayak (Sr Worlds Team)
Alexa Irvin – Sprint Kayak (U23 Worlds team)
Genny Orton – Sprint Kayak (2016 Rio Olympics)
Hannah Vaughan – Sprint Kayak (2015 Pan Am Games Champion)
Hannah MacIntosh – Sprint Canoe (Jr Worlds medalist, U23 Worlds team)
Heather Hamilton – Pole Vault athlete
Jill D'Alessio – Sprint Kayak (2004 Athens Olympics)
Tina Wilkinson – Halifax Xplosion Football team
Girls quit sports at 6x the rate of boys in their early teens which means they are missing out on all the benefits of sport participation. To change that, Fast and Female was founded in 2005 by Canadian cross country skier and Olympic gold medalist Chandra Crawford. Join us on our mission to keep girls healthy, happy, and active in sports through their teens.
You can also reach out to Una Lounder with your event questions at ulounder@fastandfemale.com.