2018 Karate Canada Nationals
Mar 08–11, 2018
Canada Games Centre
26 Thomas Raddall Drive
---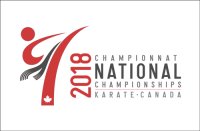 From March 8th to 11th, we're excited to be the host venue for the 2018 Karate Canada Nationals in the full Field House. Karate Nova Scotia, with support from the other Atlantic Provinces, looks forward to hosting over 500 athletes, 50 coaches and 80 officials. Canada Nationals is made up of three competition divisions – Youth (ages 12-13 years old); Junior (Cadet, Junior and U21); Senior (ages 21+).
Set up and training will begin in the full Field House on Thursday, March 8th at 10am. Competition runs from Friday, March 9th to Sunday, March 11th.
Tickets are available online in one-day and three-day packages (children ages 9 and under will have FREE entry to the event) and will also be available at the door.
This National Championship Tournament is a major selection event for choosing the "Team Canada" members for events such as the Pan American and World Championships. For more information about the National Championship Tournament, including the schedule, visit the Karate Canada National website.
---
CGC Members & Users Info 
The Track will be open during the tournament.
These Drop-in Fitness classes are relocated to the Track Starting Blocks, with the exceptions noted below. Please note space will be limited on these days.
Thursday, March 8th
9:15am Dance Fusion
10:30am Forever Strong
12:10pm Combat Express **This class will be held in the Dance Studio.**
6pm Athletic Step
7pm Core
Friday, March 9th
9:15am HIIT
10:30am Fit for Life
Saturday, March 10th
9:15am HIIT
10:30am Zumba  **This class will be held in the Dance Studio.**
Sunday, March 11th