COVID-19 Information
As always, the health and safety of our members, users and staff is our first priority. As we operate during the pandemic, we continue to follow the current advice of public health experts, mandated legislation and take into consideration best practices from similar facilities and sports organizations in Canada and internationally.
This section of our website explains what to expect at the CGC in response to the COVID-19 pandemic. Please keep in mind that public health information and provincial directives can change quickly. We will make every effort to update our website as quickly as possible as we adapt to these changes.
Latest News
Current Phase Details
Proof of Vaccination
Mask Requirements
Exposure Notices
Safety & Cleaning
Previous Phases/Stages
Thank you for doing your part to help reduce the spread of COVID-19. Please continue to follow the advice of Public Health and stay up to date through the Province's website: https://novascotia.ca/coronavirus/
---
Latest News
December 21st, 2021 | Further Provincewide Restrictions as of December 22, 2021
December 15th, 2021 | Restrictions Return December 17th, 2021
---
Current Phase Details
Public Health restrictions that took effect on December 22, 2021 were set to expire on January 12th, 2022, but will now continue until January 31, 2022 (Press Release). These restrictions include 50% capacity with social distancing for recreation facilities and reduced sport participant numbers.
Here's an overview of what to expect:
Booking Required for Activities
The safest way to manage Public Health restrictions in capacity and support physical distancing, is through online booking of all available activities. It also enables you to guarantee your workout time and helps you stay on track with your healthy active living goals.
Members and non-members can book online or in-person up to 7 days in advance beginning at 6am every day.
Payment is made at the time of booking, unless you have an active membership.
Please note: 10 punch passes are currently on hold due to system constraints, and the expiry date will be extended to reflect the duration of the hold. In the meantime, access is available by purchasing a day pass.
We have how-to's online to help anyone new to the booking process:

 

https://canadagamescentre.ca/about-us/online-registration-services/#MyRecHowTo
Activities & Amenities
The majority of our activities & amenities remain available, but are subject to capacity restrictions. For a detailed list and updated Aquatics, Drop-in Fitness and Field House & Track schedules please see:

 

Available Amenities & Activities
Maximum capacity limits for each bookable activity are displayed in MyRec.
Arriving for Your Activities
Please bring your proof of vaccination and proof of identification (and CGC membership card if a member). You will need them for access every time, regardless of if you have a sticker on your membership card.
Masks are required while inside the facility. They can be removed when exercising/directly engaged in physical activity. (Read More)
Use the side entrance doors to enter the facility and the front doors to exit.
Members and non-members will not have access to the facility any earlier than 10mins prior to their activity start time. A designated waiting area will be setup with physical distancing spots marked. Late entry to fitness classes and Aquafit is not permitted.
To help us manage capacity within the change rooms, we encourage you to arrive dressed/ready for your activity. Please familiarize yourself with our

 

change room protocols.
Bags and outdoor shoes can be brought/worn into the facility and placed in a designated area near your activity. If you decide to bring a bag, we ask that you still try to limit your items as much as possible.
Please follow staff directions and safety protocols while inside the facility. Practice social distancing of 2m (6ft), good handwashing and respiratory hygiene. Stay home if you are feeling unwell.
At the end of an activity time slot, everyone booked for that time slot must exit the facility, regardless of the time they entered.
Spectators
Spectators are only permitted for CGC delivered programs where participants are 11 years of age or younger, with a limit of 1 parent/guardian per child. Proof of vaccination and proof of identification are required.
Winter 2022 Programs
The tentative start date for the CGC Winter 2022 programming season is now Tuesday, February 1st, 2022. Current registrants in winter programs, as well as participants in the Swim Academy, Masters Swim Team, and After School Program will be emailed directly regarding their program start dates.
---
Proof of Vaccination | Required as of October 4th, 2021
On October 4th, the Province is requiring proof of full vaccination for ages 12 or older to participate in discretionary, recreational or non-essential activities. This policy applies to the CGC at the access gates.
Full vaccination means 14 days after second/final dose.
What do I need to bring to the CGC?
Ages 12+ years* should bring three things with them on every visit to enter past the gates:

Proof of vaccination, either printed card or displayed on a mobile device, OR Valid Medical Contraindication for COVID-19 Vaccination letter (Policy Details)
Valid proof of identification, such as drivers license, Passport, Government-issued ID card, health card, birth certificate, student ID card, or Secure Certificate of Indian Status
CGC membership/access card or CGC program card. Non-members will receive a Day Pass receipt after purchasing at Day Pass at the Customer Service Desk
*Grace periods for youth: https://novascotia.ca/coronavirus/proof-of-full-vaccination-policy/#children-and-youth
Youth ages 11 and under must be accompanied by a fully vaccinated adult to enter beyond the gates.
Please note: Proof of vaccination is not required to access the lobby area or front hallway washrooms, as clarified by the Province. Everyone must continue to wear masks when in these spaces, regardless of vaccination status.
How do I get my proof of vaccination?
If you received your COVID-19 vaccine in Nova Scotia, you can access your proof of vaccination online at novascotia.ca/immunizationrecord or by calling toll-free: 1-833-797-7772.
I'm a CGC member, do I need to show proof of vaccination/valid letter of exemption and ID every time? 
December 17th, 2021 Update: With the return to Public Health restrictions, we're requesting that members (even with a sticker on their card) provide full proof of vaccination/valid exemption letter and ID when checking in for their activity bookings.
I'm a CGC member 12+ years of age, but not fully vaccinated. What are my options?
If you are 12+ years of age, but not covered under medical exemption or the youth grace period for vaccination, we can place your membership on freeze until at least 14 days after your second dose. Or if you'd prefer to cancel at this time, we can help you with that too. Simply stop by our Customer Service Desk or contact Membership at membership@canadagamescentre.ca to make a change to your membership.
---
Mask Requirements
Under the directive from Public Health, wearing a mask is required while inside the CGC. Masks can be removed when exercising/directly engaged in physical activity, but required at all other times. This includes, but is not limited to:

When entering the building;
When moving to different equipment/cardio machines within the Fitness Centre and Track;
While waiting on the bench for your turn to play basketball, badminton or pickleball;
Walking to and from your lane within the Aquatics Centre and Track or fitness class space;
When going to refill your water bottle;
While in the change rooms, washrooms and hallways.

Wearing a mask alone isn't enough to prevent the spread of COVID-19. Continue to follow all other Public Health advice like getting vaccinated if able, keeping your hands clean and staying home if feeling sick.
Learn more about non-medical masks, how to make a non-medical mask and how to wear a non-medical mask.
---
Exposure Notices
(December 21, 2021) Public Health no longer contacts us directly regarding potential exposures within our facility, and they are asking individuals that receive a positive PCR or rapid test to inform their close contacts directly. Here are some helpful instructions from Public Health on identifying and notifying close contacts: https://www.nshealth.ca/information-covid-19-close-contacts. If you've received a positive test and visited the CGC recently, please contact us at 902.490.2400 ext 7 or info@canadagamescentre.ca. To protect your privacy, you do not need to leave your name, nor will we release any personal details in notifications to our community – just let us know the date and timeframe you were in the facility and the areas you visited.
Please note that potential exposure notices will be removed from the list below after 14 days from their initial reporting date, unless new information is received.
Potential Exposure:
New notices will be listed here. Currently, we have none to report.
For the latest guidance and information from Public Health on testing, please visit https://www.nshealth.ca/coronavirustesting.
---
Safety & Cleaning
Following Public Health guidelines for recreation facilities, our protocols for safety include masking, proof of vaccination, building wide touch-free initiatives, augmented cleaning practices, and reminders of good hand washing & respiratory hygiene.
Overview
Separate entrance and exits doors to help with flow and reduce close proximity to others.
Health screening posted at facility entrance.
Masks are required while inside the facility, except while exercising.
Proof of vaccination required to enter beyond the access gates.
Hand sanitizer is available to users and staff throughout the facility before entering the activity areas and prior to high-touch surfaces. Frequent cleaning by staff of high-touch surfaces throughout the facility will also take place.
Plexiglass installed at Customer Service Desk, Field House Desk and Fitness Centre Desk.
Staff are trained in proper cleaning measures, products, tools and equipment.
When the building is closed, all areas are disinfected using sprayers to allow for longer dwell time including equipment, floors, walls, and washrooms.
Cleaning routines will adapt to changes in activity/amenity availability and usage to ensure proper disinfecting and sanitation at all times.
Cleaning Equipment
The Graco Sani Spray HP Cordless Airless Disinfectant Hand Sprayer

 

delivers the proper atomization required to quickly and consistently coat surfaces to disinfect and sanitize efficiently. This will be used throughout the building including washrooms, change rooms, Aquatics Centre, Fitness Centre machines and items that require disinfectant after use.
The addition of the Graco Sani Spray HP 65 Electric Airless Disinfectant Sprayer with Hopper

 

allows us to use it in bigger spaces for optimized time cleaning. The Hopper delivers the proper atomization required to quickly and consistently coat surfaces to disinfect and sanitize efficiently.
Spray Bottles with Quato 44 and disinfecting wipes

 

will be available for all staff at workstations, aquatics and fitness areas after machine or equipment use.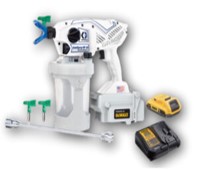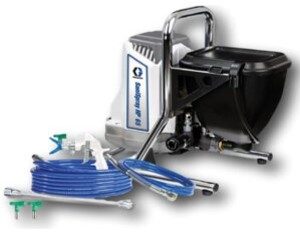 Cleaning Products
All disinfectants and hand sanitizers listed below are on Health Canada's list of hard-surface disinfectants that are supported by evidence following drug review, demonstrating that they are likely to be effective and may be used against SARS-CoV-2, the coronavirus that causes COVID-19.
Hand Sanitizer will be available to staff and users throughout the facility, especially before entering activity spaces, washrooms and prior to high touch surfaces like stair railings. Natural product number: 80002518 Deb Instant FOAM;

 

02248385 One Sep Sanitizer
Es15 Spray & Wipe Disinfectant Cleaner

 

is a ready-to-use disinfectant cleaner. This disinfectant is premixed and will be used in the handheld sprayers and HP hopper for use throughout the facility after hours. This cleaner will also be available to all staff in spray bottles for workstations. Drug Identification number: 02489740
Quato

 

44

 

is a general purpose disinfectant cleaner. Our Facility Attendants are trained on how to mix the concentrated form of this cleaner safely and prepare it for the HP Hopper and appropriate use in spray bottles.

 

Drug Identification number: 02105373
---
Previous Facility Reopening Information
Facility Reopening Phases/Stages | March 17, 2020 – October 3, 2021