Together, we inspire healthy active living.
Run, swim, jump, roll, walk, dance, lift, train, play…
…No matter how you like to move, we'll move with you. Membership, Day Passes, Drop-in Fitness Classes, Aquatics Programs, Recreation Programs, Fitness Programs, Court & Swim Times – we do it all and much more. We also know that if you move with confidence in your technique, you're more likely to stay healthy and physically active regardless of age, that is why we provide quality programs and services dedicated to improving physical literacy.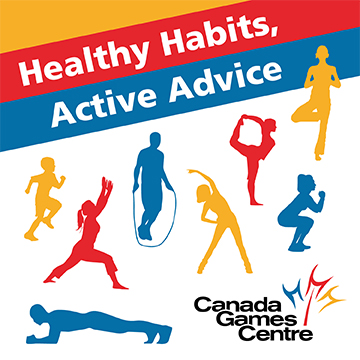 Healthy Habits, Active Advice
A healthy routine is not only good for you physically, it also helps combat feelings of stress and anxiety. It can give you a sense of normalcy and purpose without really thinking about it. Though everyone's healthy routine may look a little different, there is no shortage of activities out there to make us all feel good.
Can't make your routine visit to the CGC? Find some great tips, tricks, suggestions and resources for physical fitness, physical literacy and mindfulness you can do from home: Healthy Habits, Active Advice
January 7th, 2022 Update:
Public Health restrictions that took effect on December 22nd, 2021 were set to expire on January 12th, 2022, but will now continue until January 31st, 2022 (Press Release). These restrictions include 50% capacity with social distancing for recreation facilities and reduced sport participant numbers. Booking of activities will continue, along with existing Public Health requirements of wearing masks while inside the facility, and providing proof of vaccination to enter beyond the access gates. For more information please click here.
Thank you again for your understanding and for doing your part to help reduce the spread of COVID-19. Please continue to follow the advice of Public Health and stay up to date through the Province's website: https://novascotia.ca/coronavirus/