Fee Assistance for 10 Punch Passes and Not-for-Profit Groups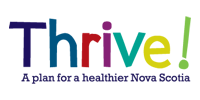 The Canada Games Centre (CGC) is committed to promoting healthy and active lifestyles for our community and to providing access opportunities for sport and recreation at all levels. One of our core values is "Community" – bringing people together by creating a safe, trustworthy and welcoming environment where the unique needs of individuals are considered. We pride ourselves on being community oriented, offering variety and being accessible.
The Canada Games Centre offers fee assistance through JumpStart, and Thrive! funding thanks to the Nova Scotia Department of Community, Culture & Heritage's Thrive! Facility Access grant.
There are two ways to take advantage of this fee assistance program:
1) 10 Punch Pass Fee Assistance
Fee assistance is available to individuals and families who are unable to pay for access to the facility. This assistance allows you to receive a 10 Punch Pass. See below for eligibility and application details.
To apply for 10 Punch Pass fee assistance, please complete the Thrive! Application and email to membership@canadagamescentre.ca, fax (902) 490-2242 or drop it off at the Canada Games Centre. Applications can also be completed in person at the Customer Service Desk.
2) Access for Not-for-Profit Groups
Access to the CGC for a group swim or field house/track rental is available for groups at a reduced rate. To qualify, groups must be registered not-for-profit organizations working with low income individuals/families/groups in the community. Activities the organization wishes to pursue must be consistent with the CGC mandate of helping to increase physical activity levels in our community and the requesting organization must provide staff to accompany/instruct and assist group participants in their planned activity. Fee assistance for group swims and rentals will be distributed based on need and availability of space.
To apply for Not-for-Profit group swims/rentals, please complete the Thrive! Application and fax to (902) 490-2242 or drop it off at the Canada Games Centre. Applications can also be completed in person at the Customer Service Desk.
Fee Assistance – Qualifying and Applying (for 10 Punch Pass assistance only)
Fee assistance is for Halifax Regional Municipality residents in financial need to help make recreation opportunities more affordable. If approved, you will receive a 10 Punch Pass.
Eligibility
To be eligible to qualify for fee assistance you must meet the following requirements:
Individuals must be residents of Halifax Regional Municipality at the time of application.
Your total family income must be below the Statistics Canada Low Income Cut-offs. There are several taxation notices that the Canada Revenue Agency distributes that shows your family household income total from the previous year (based on family size). These include:

Canada Revenue Agency Notice of Assessment for each adult in the household, showing line #150.
Canada Revenue Agency Goods and Services Tax/Harmonized Sales Tax stating family net income.
There is no need to provide financial documents however applications must be endorsed by a community professional (such as a Community Services worker, Resource Centre staff or pastor, etc.) who can speak to your financial need and recommend that assistance is required. The CGC asks that individuals are transparent about their financial situation so we can help those most in need.
*Amount of funding is limited. Please apply early to avoid disappointment.
Applying
What happens once I submit my application?
Your application will be assessed two-to-four weeks from the time it is received. You will be notified of the result by email or telephone, depending on the preferred method indicated on your application.
Once an application has been reviewed, individuals/families/groups will be contacted directly with the decision on your application. The CGC assesses each application individually and expects commitment from all recipients to maintain the fee assistance moving forward. Fee assistance is for a set amount of time (ex. one year) or one-time group visits with a specific date attached and not as ongoing or endless assistance.
If I receive CGC fee assistance what will be expected of me?
All information that you provide the CGC will be kept confidential and we would appreciate the same confidentiality from you. We do our very best to accommodate those with the greatest need who wish to utilize our facility. Assistance may be denied based on a discrepancy between the ability to pay and the community endorsement.
Please Note: In the event of a discrepancy between the ability to pay and community endorsement, proof of financial may be requested.
If your financial situation changes and you no longer require assistance, please let us know right away by stopping at the Customer Service Desk and speaking to a representative. This will enable us to help other individuals/families/groups who are unable to pay the fee.
For more information about the CGC visit the About Us section of our website. You'll also find our User Code of Conduct online.
How is the Fee Assistance program managed?
Applications are submitted to the Canada Games Centre and are reviewed by the department the assistance applies to; for example Membership department for 10 Punch Passes and Facility Rentals & Events department for groups looking for rental space/visits.