Lifesaving Society's Swim for Life Program
Based on the internationally recognized Swim to Survive standard, the CGC follows the Lifesaving Society's Swim for Life Program which focuses on basic survival skills and proper swimming technique – fun from day one!
Swim for Life starts by developing strong foundation and personal self-rescue skills, then continues on by challenging swimmers to develop stronger swimming strokes. Success oriented and fun for the entire family, there is something for everyone in the Swim for Life program.
Aquatic Programs continued commitment to Quality
We are committed to quality programs and a positive experience for all students and parents. To ensure this, we organize our programs to meet everyone's needs.
35 & 50 minute classes (increased from 30 & 45 minute classes).
9 week program (allows us to not schedule classes during holidays).
Scheduled 5 minute rotation/evaluation/connect with parents time between classes.
Expanded parent & tot classes.
Expanded preschool 4 & 5 classes.
Please see our program guide(s) below for enrollment information, dates and times.
---
Winter 2018 Programs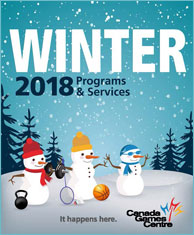 WINTER REGISTRATION DATES
MEMBERS:
Online: November 21st, beginning at 8:00am
In-person: November 23rd, beginning at 8:00am
NON-MEMBERS:
Online: November 28th, beginning at 8:00am
In-person: December 1st, beginning at 8:00am
Click to view the Winter 2018 Program Guide
Fall 2017 Programs: Registration remains open for each program until its second session, provided spaces still remain. Click to view the 2017 Fall Program Guide
---
Swim Lessons & Sport Programs Parent Handbook
We've compiled a Parent Handbook in an effort to help you prepare for the Swim Lesson and Aquatics Sports season. Included in the handbook are program information and updates, a breakdown of our staff on deck and how to recognize them, where to go and what to bring to your sessions, plus more.
Click here to download the Parent Handbook – updated Spring 2015
If there is information missing in the handbook that you feel would be helpful to include, please don't hesitate to let us know. Email info@canadagamescentre.ca with your suggestions.
Happy swimming!