THANK YOU!
What an incredible morning at the 4th Annual Food Run on Sunday, October 16th, 2016! To everyone who ran/walked/strolled or had fun at the Festival, we send a heartfelt thank you for being an essential part of this community event and supporting FEED NOVA SCOTIA.
We're pleased to announce the 2016 Food Run tally in support of FEED NOVA SCOTIA:
Monetary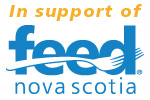 donations | $3,519.30
Food donations | 1,538kg
The community Food Run & Festival would not have been possible without the tremendous support from our sponsors and the unwavering efforts of volunteers and staff. As part of race day, we also donated leftover food items from the Festival to Metro Turning Point.
Photos are now posted. Visit our 4th Annual Food Run photo album on our Facebook page to see the fun we captured on race day!
Thank you for helping take a bite out of hunger!