THANK YOU!
A heartfelt thank you and the highest of high fives for everyone who braved the Sunday morning chill to participate in our 2015 Food Run on October 18th, 2015. With your incredible support, we blew past last years numbers in both food and monetary donations for FEED NOVA SCOTIA and took our biggest bite out of hunger yet!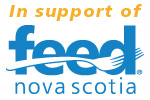 2015 food donations: 3028 kg  |  2014 food donations: 1030 kg
2015 monetary donations: $2481.20  |  2014 monetary donations: $653.52
All of this would not have been possible without the generous help of our sponsors and tireless effort of volunteers and staff.
Photos now up!
Visit our 3rd Annual Food Run photo album on our Facebook page to see all of the smiles and activity captured on race day.