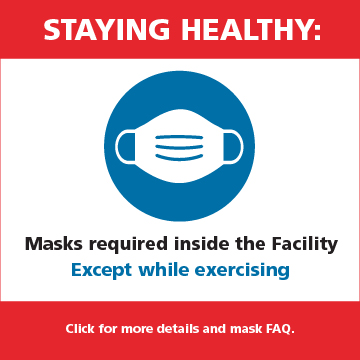 ---
Masks Required — Effective July 31st, 2020:
Under the directive from Public Health, wearing a mask is required while inside the CGC. Masks can be removed when exercising/directly engaged in physical activity, but required at all other times.
User exemptions as per Public Health: Children under two are exempt, as well as children aged two to four when their caregiver cannot get them to wear a mask. People with a valid medical reason for not wearing a mask are exempt. Schools, daycares and day camps continue to follow their reopening plans. (https://novascotia.ca/news/release/?id=20200724004). Please note, this includes CGC summer campers; they are exempt from wearing masks inside the facility.
Using a mask alone isn't enough to prevent the spread of COVID-19. Continue to follow all other Public Health and CGC protocols like keeping your hands clean, following cough and sneeze etiquette, social distancing guidelines, and staying home if feeling sick.
Learn more about non-medical masks, how to make a non-medical mask and how to wear a non-medical mask.