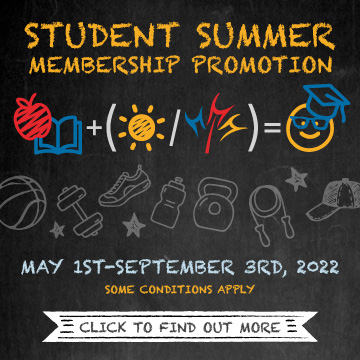 ---
Our Student Summer Promo is back!
For many university and college students, another school year has finished and it's time for a break from required readings. Revitalize your body and mind with a healthy routine and a great deal on a Canada Games Centre membership. Choose from a Fitness Centre full of cardio and weight equipment, Basketball and Badminton/Pickleball courts, three pools, a six-lane 200m indoor Track, over 60 Drop-in Fitness Classes a week, and more to satisfy all your fitness cravings.
Sign me up!
Beginning on May 1st, 2022, students can sign up and save on membership this summer.* Rates start at $195 and are prorated daily, so you're always getting a great deal.
*Savings compared to paying the 1 month membership rate for each month until September. Offer is valid for university or college students of any age (valid student ID or proof of registration in 2022-2023 academic year required). Prices do not include tax and all memberships expire on September 3rd, 2022.
Also included
Complimentary Fitness Centre orientation session
Free on-site parking
Day-use lockers (just bring a lock)
Basketballs, pickleballs, birdies, racquets, table tennis equipment and Nordic poles free to rent
Located next to the Halifax Transit Lacewood Terminal
For more of what a CGC membership has to offer, click here
Visit our Customer Service Desk to sign-up! Or book a tour with our Membership Coordinator at membership@canadagamescentre.ca.