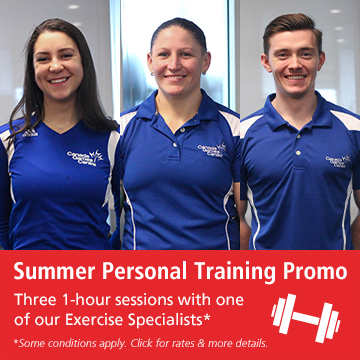 ---
Whether your goal is getting ready for a 5 km race, preparing for a big sports tournament, or simply improving your fitness routine, this is the perfect promotion for you.
From June 1st to 30th, 2019, you can purchase three 1-hour Personal Training sessions:
Members $129 + HST*
Non-Members $159 + HST*
Get to know our new Exercise Specialists!
Allison is a graduate of Dalhousie University's Bachelor of Science, Kinesiology program. She is passionate about helping people achieve their maximum fitness potential through unleashing their inner power.
Eileen comes all the way from Potgietersrus, South Africa. Her fitness experience ranges from being an Olympic Lifting Instructor to being a certified National Lifeguard. Her fitness superpower? She would pull trucks and deadlifts cars for fun.
Travis, a Newport, California native, is passionate about people achieving the goals that they set. Also a Dalhousie University Kinesiologist graduate, Travis loves a berry, spinach and oat smoothie for his post-workout snack.
Get started with our Exercise Specialists by purchasing your PT sessions at our Customer Service Desk. Stop by the Fitness Centre Desk or call Amber Allan, Fitness & Wellness Coordinator at 902.490.2249 to book your training sessions.
*This promotion ends on June 30th, 2019 and all sessions expire on August 31st, 2019 (no exceptions). Member rate is valid for annual members only. Multiple packages can be purchased, but must be used by August 31st, 2019.