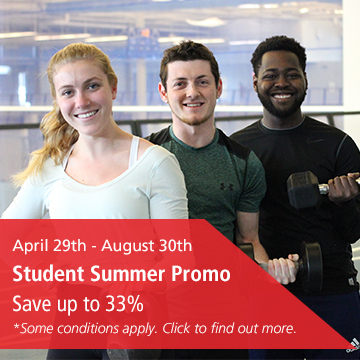 ---
Lift your grades with help from the CGC
Did you know increasing physical activity can help boost academic achievement? Studies show that exercise can improve focus, reduce stress and help you sleep better! Now that classes are coming to an end, it's the perfect time to develop a fitness routine that you can integrate into your fall schedule. With a Fitness Centre full of cardio and weight equipment, Basketball and Badminton/Pickleball courts, three pools, a six-lane 200m indoor Track and over 75 Drop-in Fitness Classes a week, the Canada Games Centre has plenty of activities to help you get a head start on the new school year and into the best shape of your life! 
Sign me up!
Starting on April 29th, students can sign up and save up to 33% on a membership this summer.* Rates start at $188 and are prorated daily, so you are always getting a great deal.
*Offer is valid for university or college students of any age (valid student ID or proof of registration in 2019-2020 academic year required). Prices do not include tax and all memberships expire on August 30th, 2019. 
Also included
FREE Simply Fit orientation session to help you stay motivated with a large variety of specialized weight training and cardio equipment in our Fitness Centre
Free on-site parking
Day-use lockers
Balls, racquets and Nordic poles free to rent
Located next door to the Lacewood Bus Terminal
For more of what a CGC membership has to offer, click here
Visit our Customer Service Desk today! Or book a tour with our Membership Coordinator at membership@canadagamescentre.ca.