Safety & Cleaning Practices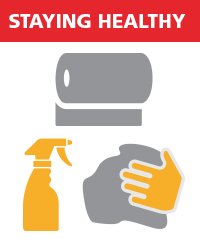 As we prepare to welcome you back, we've implemented a number of new cleaning and safety measures. Following the Public Health guidelines for facilities, our new protocols for safety include health screening, social distancing, building wide touch-free initiatives, augmented cleaning practices, and reminders of good hand washing & respiratory hygiene.
Overview
To kick-start our safety and cleaning practices, we performed a complete deep clean of the facility and many maintenance projects during the closure.
Reduced facility hours and activity times scheduled to support enhanced cleaning periods during the day and deep cleaning at night.
Amenity and activity specific modifications and disinfecting practices to support current Public Health protocols.
Health screening during online booking and also before entry into the facility.
Separate entrance and exits doors, directional signage, stanchions and staff to guide you through the facility and help you maintain social distancing.
Hand sanitizer will be available to users and staff throughout the facility before entering the activity areas and prior to high-touch surfaces. Frequent cleaning by staff of high-touch surfaces throughout the facility will also take place.
Plexiglass installed at Customer Service Desk, Field House Desk and Fitness Centre Desk.
All staff will be required to wear masks or shields where social distancing cannot be achieved.
All staff will be trained in proper cleaning measures, products, tools and equipment.
When building is closed, all areas will be disinfected using sprayers to allow for longer dwell time including equipment, floors, walls, and washrooms.
Cleaning routines will adapt to changes in activity/amenity availability and usage to ensure proper disinfecting and sanitation at all times.
Cleaning Equipment
The Graco Sani Spray HP Cordless Airless Disinfectant Hand Sprayer delivers the proper atomization required to quickly and consistently coat surfaces to disinfect and sanitize efficiently. This will be used throughout the building including washrooms, Fitness Centre machines and items the require disinfectant after use.
The addition of the Graco Sani Spray HP 65 Electric Airless Disinfectant Sprayer with Hopper allows us to use it in bigger spaces for optimized time cleaning. The Hopper delivers the proper atomization required to quickly and consistently coat surfaces to disinfect and sanitize efficiently.
Spray Bottles with Quato 44 and disinfecting wipes will be available for all staff at workstations and fitness areas after machine or equipment use.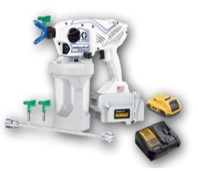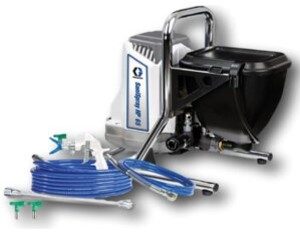 Cleaning Products
All disinfectants and hand sanitizers listed below are on Health Canada's list of hard-surface disinfectants that are supported by evidence following drug review, demonstrating that they are likely to be effective and may be used against SARS-CoV-2, the coronavirus that causes COVID-19.
Hand Sanitizer will be available to staff and users throughout the facility, especially before entering entering activity spaces, washrooms and prior to high touch surfaces like stair railings. Natural product number: 80002518 Deb Instant FOAM; 02248385 One Sep Sanitizer
Es15 Spray & Wipe Disinfectant Cleaner is a ready-to-use disinfectant cleaner for use by staff throughout the building. This disinfectant is premixed and will be used in the handheld sprayers and HP hopper for use throughout the facility during operating hours. This cleaner will also be available to all staff in spray bottles for workstations. Drug Identification number: 02489740
Quato 44 is a general purpose disinfectant cleaner in a concentrate that will be used by Facility Attendants after hours (i.e. washrooms, showers, counter tops, etc.). Facility Attendants are trained on how to mix this cleaner safely and it will be used in the HP Hopper. Drug Identification number: 02105373