First aid and CPR training is mandatory for employees in the workplace and we are proud to offer the courses necessary to help your workplace maintain compliance with both federal and provincial/territorial occupational health and safety legislation.
Designed to meet industry, business and government requirements, we provide first aid training for small or large groups.
We offer the following training:
CPR-C & AED Responder
Emergency First Aid (CPR-C) & AED Responder
Standard First Aid (CPR-C) & AED Responder
First Aid/CPR-C Recertification (EFA & SFA)
If you have any questions about our first aid training, please contact Chris Hanlon at hanlon@canadagamescentre.ca.
---
Winter 2019 Program Guide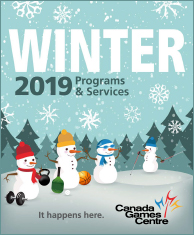 WINTER REGISTRATION DATES
MEMBERS:
Online: November 20th, beginning at 8:00am
In-person: November 22nd, beginning at 8:00am
NON-MEMBERS:
Online: November 27th, beginning at 8:00am
In-person: December 4th, beginning at 8:00am