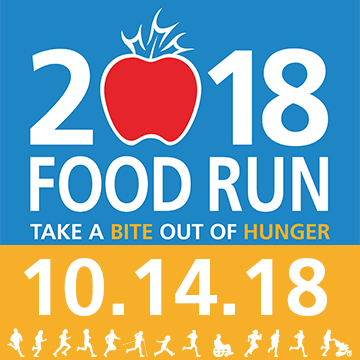 ---
2.5km/5km Walk/Run
On Sunday, October 14th, 2018, the 6th Annual Food Run, in support of FEED NOVA SCOTIA, will celebrate community, healthy living and physical literacy.
We've all been there, you're hungry, you grab anything in sight, sometimes not really thinking about the nutritional value of what you're putting in your mouth. This is the reality for thousands of Nova Scotian's every day. They don't have the choice; they make the decision out of necessity.
Last year, with your help, we provided 11,186 meals in the community through a combination of food and cash donations. We challenge you to help us beat these numbers this October and take an even bigger bite out of hunger!
Registration is FREE with food or cash donation and includes:
• Entry into the Food Run 2.5km/5km walk/run
• Food Run t-shirt
• Post-run treats and snacks
• Entry into prize draws
• Access to the indoor Community Festival in the CGC Field House (physical literacy play zone, bouncy castles, interactive booths and more)
Online registration is now closed.
Day of registration opens at 8am on Sunday, October 14th, 2018.
For course map and more details, please visit our Food Run event pages.