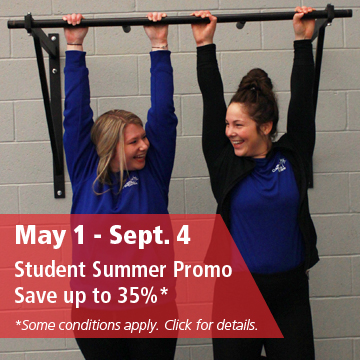 ---
Get Fit with our Student Summer Promo!
Trade in your books for burpees and hang out with us this summer. We have a Fitness Centre full of cardio and weight equipment, Basketball, Badminton/Pickleball courts, three pools, a six-lane 200m indoor Track and over 50 Drop-in Fitness Classes a week. There are plenty of activities to keep you fit for fall classes.
Join between the following dates and save up to 35% off your membership.
May 1st-May 13th (18 weeks) | $188
May 14th-May 27th (16 weeks) | $167
May 28th-June 10th (14 weeks) | $146
June 11th-June 24th (12 weeks) | $125
June 25th-July 8th (10 weeks) | $104
July 9th and forward (8 weeks) | $83
Prices do not include tax.
*Offer is valid for university or college students of any age (valid student ID or proof of registration in 2017-2018 academic year required). All memberships expire on September 4th, 2017.
Get started with our FREE Simply Fit orientation session and stay motivated with a large variety of specialized weight training and cardio equipment in our Fitness Centre (ages 14+).
Also included:
Free on-site parking
Day-use lockers
Balls, racquets and Nordic poles free to rent
We're located right next door to the new Lacewood Terminal so travel to the CGC by bus for your workout.
Sign up at the Customer Service Desk today! Or book a tour with our Membership Coordinator at membership@canadagamescentre.ca.