When it comes to an active lifestyle, there is more to be gained than lost.
Expand your physical activities, get your heart pumping, breathe easier, and feel good about yourself with a membership at our multi-sport facility – where everything you need to get fit and stay healthy is under one roof.
Swim, dive, and float your way around our Aquatic Centre (3 pools, Hot Tub, Dry Sauna, Water Slides & Play Features)
Stay motivated with a large variety of specialized weight training and cardio equipment in our Fitness Centre (ages 14+)
Hone your skills or play for fun in our Field House (Basketball, Volleyball and Badminton, Ping Pong & Pickleball)
Stretch your legs on our 6-lane, 200m indoor Track (Strollers & Nordic Poles welcome!)
Choose from over 50 Drop-in Fitness Classes a week, including Yoga, Zumba, Spin, Aquafit and more
Worry-free automatic renewal
Day-use lockers (just bring your lock)
Free on-site parking
Balls, racquets, birdies & Nordic Poles free to rent
Outdoor physical literacy playground
Child Minding available for an additional fee
And there's more. Membership Exclusives include:
Bi-weekly payment plans available
Free Simply Fit Fitness Centre Orientation
Advanced registration & special pricing for programs including swim lessons*
Discounts on Personal Training*
Member Only Swims
Advanced Badminton court bookings
Ability to freeze your membership for a maximum of 3 months*
10% discount at Booster Juice (Clayton Park, Lacewood Drive) with membership card
*Annual members only, some restrictions may apply
---
Member Profile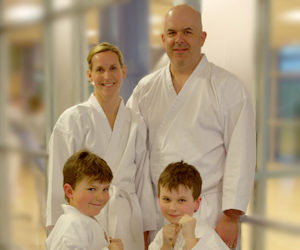 Publicover Family
Meet the Publicover family – Trevor and Cathy with sons Gavin and Giles (l-r)! While they like to take full advantage of all areas of the Centre with friends, they are also one of our many Family Karate participants. They also enjoy the CGC's annual New Year's Eve Family Extravaganza with the boys.
"We love that there is such a wide variety of options that fit our family's lifestyle. We use all the Centre has to offer for fitness and family fun time. The staff at the CGC are always very friendly and supportive."
Read More »