About Water Polo Team
Water Polo Team will introduce participants to the sport of water polo, while providing them with training opportunities geared towards skills development and competition. Throughout the year, specially trained water polo coaches will concentrate on developing each participant's strength, power, and endurance. Participants will also focus on swim technique and expanding their skills into the sport of Lifesaving. Water Polo Team participants may register for the annual program or choose the seasonal program.
The Water Polo Team is made up of two age groups:
Water Polo – Team B | Ages 8-12
Water Polo – Team A | Ages 13 & up
Pre-requisites for Teams A & B: Completed Swimmer 4 or Swim Kids 5, have some water polo experience, feel comfortable in deep water, tread water for 1 min, swim 5-8 minutes continuous and follow coach's directions.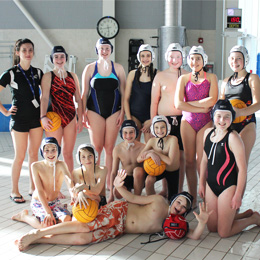 Training & Competition Schedules
The 2017-2018 Water Polo Team runs from September 11th-June 17th. Start and end dates may vary slightly depending on group. Further details will be communicated by the coach.
Fees
Annual Program
Annual Program fees cover coaching; a training schedule which may include dryland, yoga, swimming, water polo and lifesaving sport training; equipment costs and Swim Nova Scotia fees. Also, annual Swim Academy participants on the Lifesaving Sport Team receive a 12-month Canada Games Centre membership.
Team B: Annual fee $600 | Bi-weekly fee $27.30 (20 payments)
Down payment at registration $54.60
Team A:

 

Annual fee $700 | Bi-weekly fee $31.85 (20 payments)
Down payment at registration $63.70
Add-on membership options are available for family members of the CGCSA participant. 
Seasonal Program
Seasonal CGCSA programs are structured with four registrations throughout the year, but still provide access to training for all three sports – swimming, lifesaving and water polo. Register
for all four seasons or pick and choose. Seasonal programs do not include Canada Games Centre Membership or option for Dryland and Yoga training.
Seasonal Program fees cover coaching; a training schedule which includes swimming, water polo and lifesaving sport training; equipment costs and Swim Nova Scotia fees.
Team B: Seasonal fee $200
Team A:

 Seasonal fee $200
Registration
In-person registration only, beginning August 10th, 2017 at 8am.
Or bring your questions and sign-up during a Swim Academy Information Night:
Thursday, August 10th at 6pm-8pm
Tuesday, August 15th at 6pm-8pm
Additional registration information including cancellation policy and transfer between groups.
CGCSA & Sport For Life
The Water Polo Team is aligned with the Fundamentals and Learn to Trains stages of the S4L Long-Term Athlete Development. Click to learn more about CGCSA and S4L.
---
Introduction to Water Polo Levels
I Love Water Polo
Looking for something fun to do in the pool other than swimming lessons but not ready to join the Swim Acadmey? Want to expand your aquatic skills? Then why not try I Love Water Polo (ILWP)! Our friends at Water Polo Nova Scotia are helping us offer the first two levels of the I Love Water Polo program. This water polo program is a non-contact team sport that combines elements from other popular sports like hockey, soccer, basketball, and swimming. A team is made up of 13 players; six players and a goalie are in the water at all times. In a learn to-play environment, similar to that of swimming lessons, participants discover the game of water polo, and the basic skills involved in aquatic sports. This program also helps enhance swimming, balance and coordination skills.
ILWP – Level 1 & 2
In this first level, you'll receive an introduction to passing, catching, and shooting. You'll also learn the basics of picking up a ball from underneath, correct body position, various treading water techniques, and water polo strokes to cover a distance of 10-15m. The second level will focus on continued development of Level 1 skills at greater distances (15-25m), introduction to new skills like zigzag and rollover, as well as improved shooting and passing accuracy. Basic rules of the game and balance/coordination exercises are also covered.
Pre-requisite: Ages 8-11, Swimmer 3 or higher
ILWP – Level 3 & 4
In Level 3, you will master movements in a horizontal body position, increase your stamina and treading water skills, refine shooting, receiving and passing accuracy, and tackle intermediate balance and coordination activities. In Level 4, you will focus on refining skills learned in levels 1-3, travelling with the ball, maintaining appropriate body position, Integration of ball handling, body position, and swimming skills to develop basic water polo tactical skills. Solid understanding and demonstration of basic ILWP rules.
Pre-requisites: Ages 11-14, ILWP Level 1 & ability to swim 25m non-stop
Registration Information for ILWP Levels
You can register in-person or online for I LOVE WATER POLO levels. Please refer to page 46 of the 2017 Fall Program Guide for registration codes, fees, and lesson times.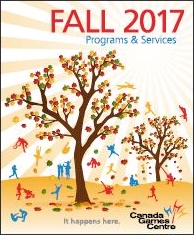 FALL ILWP REGISTRATION DATES
MEMBERS:
Online: August 8th, beginning at 8:00am
In-person: August 10th, beginning at 8:00am
NON-MEMBERS:
Online: August 15th, beginning at 8:00am
In-person: August 22nd, beginning at 8:00am