Our Club
The CGC Water Polo Club is for kids who enjoy the sport and who have shown the dedication and desire to succeed at a competitive level. This club is comprised of water polo athletes selected through an evaluation process by the head coach at the end of each session or via registration in accordance with pre-requisites above. Club members will participate in two training sessions per week: one water workout and one dryland training sessions which involves conditioning, flexibility, and water polo specific exercises. Athletes in this level will have the opportunity to play in local and provincial meets, participate in fun activity nights and other training opportunities.
Prerequisite: Ages 8-12 (Swimmer 2 or higher) & 12-16 (Swimmer 3 or higher)
Before Joining
I Love W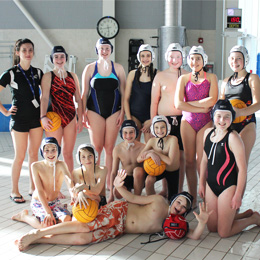 ater Polo
Looking for something different than swimming lessons? Want to expand your aquatic skills? Then why not try water polo! Our friends at Water Polo Nova Scotia are helping us offer the first two levels of the I Love Water Polo (ILWP) program. This water polo program is a non-contact team sport that combines elements from other popular sports like hockey, soccer, basketball, and swimming. A team is made up of 13 players; six players and a goalie are in the water at all times. In a learn to-play environment, similar to that of swimming lessons, participants discover the game of water polo, and the basic skills involved in aquatic sports. This program also helps enhance swimming, balance and coordination skills.
ILWP – Level 1
In this first level, you'll receive an introduction to passing, catching, and shooting. You'll also learn the basics of picking up a ball from underneath, correct body position, various treading water techniques, and water polo strokes to cover a distance of 10-15m.
Prerequisite: Ages 8-11 (Swimmer 2 or higher)
ILWP – Level 2/3
The second level will focus on continued development of Level 1 skills at greater distances (15-25m), introduction to new skills like zigzag and rollover, as well as improved shooting and passing accuracy. Basic rules of the game and balance/coordination exercises are also covered in this level. Level 3 ILWP, you will master movements in a horizontal body position, increase your stamina and treading water skills, refine shooting, receiving and passing accuracy, and tackle intermediate balance and coordination activities.
Prerequisites: Ages 11-14 (Swimmer 3 or higher), ILWP Level 1 & ability to swim 25m non-stop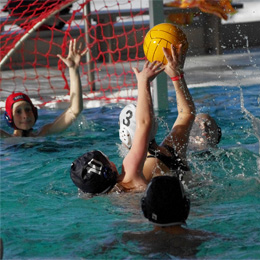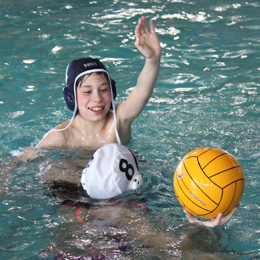 Spring 2017 Programs & Services

Click to view the Spring 2017 Program Guide
Spring programs begin as of April 3rd (unless otherwise noted in the Program Guide). Registration for Spring remains open until the second session of the program has passed.
2017 Summer Camps & Programs

Click to view the 2017 Summer Camps & Programs Guide
SUMMER REGISTRATION DATES
MEMBERS:
Online: March 27th, beginning at 8:00am
In-person: March 30th, beginning at 8:00am
NON-MEMBERS:
Online: April 4th, beginning at 8:00am
In-person: April 11th, beginning at 8:00am