Our Jr. Lifesaving Club will introduce participants between the ages of 7-14 years to the sport of lifesaving, while providing them with training opportunities towards more experienced lifesaving competitions. The Club encourages healthy living and regular physical fitness, and incorporates High Five Sport and Fundamental Movement Skills in a social club setting.
Throughout the year, specially trained Lifesaving Coaches will concentrate on developing each swimmer's strength, power and endurance. Participants will also focus on teamwork, sportsmanship, achieving personal bests and, most of all, having fun! During the competition season, CGC Jr. Lifesaving Club members may have the opportunity to train for and participate in a number of pool events including the Nova Scotia Pool series and the Canadian Lifesaving Championships.
This club is an excellent option for swimmers who have progressed through the swimming lessons but are too young to start leadership levels.
Prerequisite: Completed Swimmer 4 or Swim Kids 5
2nd Place win for the CGC Jr. Lifesaving Team!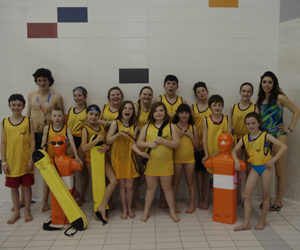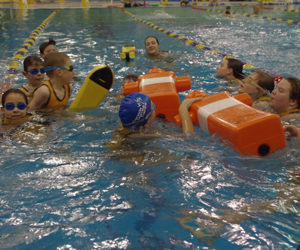 The Lifesaving Society Sport Competition and Junior Lifeguard Games were held in Truro, NS on Saturday, March 18th. The CGC Junior Lifeguard team put up fantastic results, placing second as a team. We had seven 1st place finishes, with 11 2nd place finishes! They competed alongside the CGC Senior team with awesome results in these events:
Individual Results | Junior Team
• Alice Roebothan – 4th place Girls 7-9 50 SC Meter Obstacle Swim, 1st place Girls 7-9 50 SC Meter Manikin Carry
• Ana Faustova – 2nd place Women 14-15 200 SC Meter Obstacle Swim Relay
• David Ackerman- 2nd place Boys 7-9 50 SC Meter Obstacle Swim, 2nd place Boys 7-9 10 SC Meter Line Throwing
• Genevieve Storey – 3rd place Girls 7-9 50 SC Meter Obstacle Swim, 1st place Girls 7-9 10 SC Meter Line Throw
• Graham Sauer – 3rd place Boys 7-9 50 SC Meter Obstacle Swim
• Halle Nickerson – 1st place Girls 7-9 50 SC Meter Obstacle Swim, 2nd place Women 14-15 200 SC Meter Obstacle Swim Relay
• Kira Lloyd – 2nd place 50 SC Meter Obstacle Swim, 2nd place Women 14-15 200 SC Meter Obstacle Swim Relay, 2nd place Girls 10-11 10 SC Meter Line Throw
• Laura Storey – 5th place Girls 10-11 50 SC Meter Obstacle Swim, 1st place Girls 10-11 10 SC Meter Line Throw, 2nd place Girls 10-11 50 SC Meter Manikin Cary
• Liam Saunders – 1st place Boys 7-9 50 SC Meter Obstacle Swim, 1st place Boys 7-9 10 SC Meter Line Throwing, 1st place Boys 7-9 50 SC Meter Manikin Carry
• Lily Peach – 2nd place Women 14-15 200 SC Meter Obstacle Swim Relay
• Mya MacPhee – 2nd place Girls 7-9 50 SC Meter Obstacle Swim, 2nd place Girls 7-9 10 SC Meter Line Throw
Individual Results | Senior Team
• Kate Ferguson – 9th place Women 200 SC Meter Obstacle Swim, 8th place Women 50 SC Meter Manikin Carry, 5th place Women 100 SC Meter Carry w Fins
• Olivier Blais – 7th place Men 200 SC Meter Obstacle Swim, 5th place Men 50 SC Meter Manikin Carry, 5th place Men 100 SC Meter Carry w Fins, 1st place Men 2×6 SC Meter Line Throw Relay
• Scott Keeling – 1st place Men 2×6 SC Meter Line Throw Relay
---
2017 Summer Camps & Programs

Click to view the 2017 Summer Camps & Programs Guide
SUMMER REGISTRATION DATES
MEMBERS:
Online: March 27th, beginning at 8:00am
In-person: March 30th, beginning at 8:00am
NON-MEMBERS:
Online: April 4th, beginning at 8:00am
In-person: April 11th, beginning at 8:00am